Four Former Presidents Attend Barbara Bush's Funeral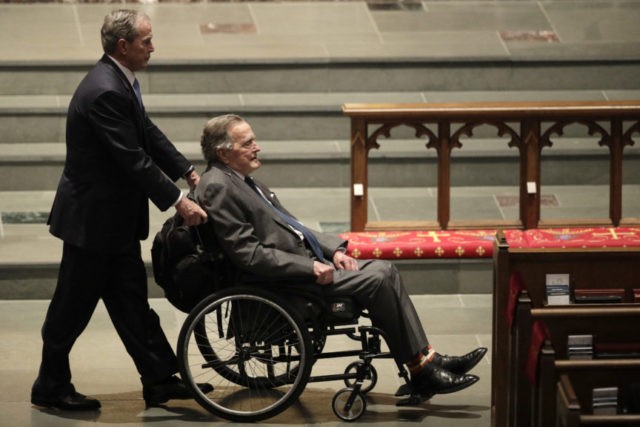 Former President George W. bush '43, wheeling Bush '41 at Barbara Bush's funeral
Former First Lady Barbara Bush passed away on April 17, 2018. She had been in declining health for some time. It was announced early last week that the former First Lady only wanted "comfort care", which is medical care necessary to keep you comfortable prior to death.
The former first lady was born in 1925, she was born in Rye, New York on June 8, 1925. Her father late became president of the McCall Corporation, the publisher of popular women's magazines,
Redbook
and
McCall
. She met her husband, George Herbert Walker Bush when she was 16. They both married in 1945, after George H.W.'s service in World War II. She bore six children through him. One of them, Robin Bush, died of leukemia in early childhood. Her eldest son, George W., was president from 2001-2009. Barbara's husband, George H.W. Bush was vice president of the U.S. from 1981-89 and later was elected president for one term from 1989-1993. While she was First Lady, Barbara Bush was a huge literacy advocate. She founded the Barbara Bush Foundation for Family Literacy. Bush was also the matriarch of the Bush family as well. She is the only former First Lady since Abigail Adams to have both a husband and son as president of the United States.
Four former presidents and former first ladies attended her funeral.